John Taylor, owner of Minuteman Press, Nashville, TN, proudly stands outside the newly rebranded Grand Ole Opry House.
The Grand Ole Opry House, a legendary music venue in the USA owned by Ryman Hospitality Partners, has undergone a remarkable transformation thanks to the dedication of John Taylor and his team at Minuteman Press in Nashville, Tennessee. Now, the exterior of the Grand Ole Opry House reflects the same excellence as the music performed within its hallowed walls, thanks to a recent comprehensive rebranding effort.
John Taylor has been at the helm of his Minuteman Press business in Nashville since January 2014, achieving the esteemed status of a member of the President's Club, recognizing top performers across the Minuteman Press franchise system.
What initially began as a routine sales call and business card order a decade ago has blossomed into a steadfast branding partnership between Taylor's Minuteman Press and Ryman Hospitality.
"Through our initial contact with the marketing department at Ryman Hospitality, a genuine and enduring relationship has blossomed," Taylor reflects. "While they may have many printing options, we've kept the lines of communication open, finding opportunities for cross-selling whenever possible."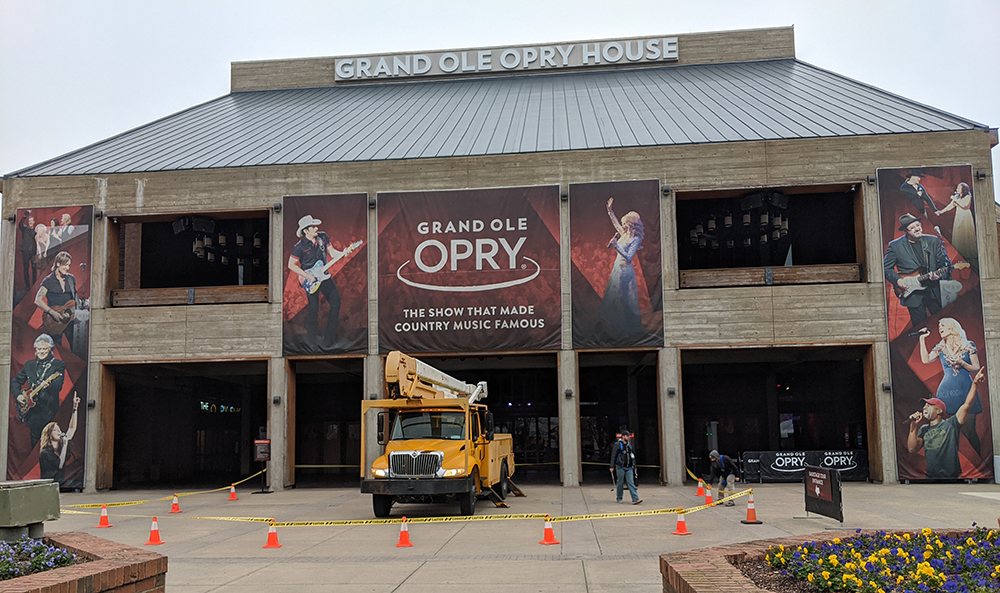 "Before" photo of the Grand Ole Opry with mesh banners.
Taylor's shop took the initiative to establish an online portal ordering system for Ryman Hospitality, streamlining the process of procuring their printed materials and administrative items across their diverse range of brands.
"We've made a practice of presenting potential clients with our branded Minuteman Press 'Portfolio Thumb-drive,'" Taylor explains. "This thumb-drive is pre-loaded with our most noteworthy projects, neatly organized into categorized folders. This effort played a pivotal role in solidifying our position as one of their trusted branding partners, and I'm proud to say, their preferred branding partner. As a result, we've had the privilege of working on projects spanning from Nashville to New York City as they continue to expand and open new venues."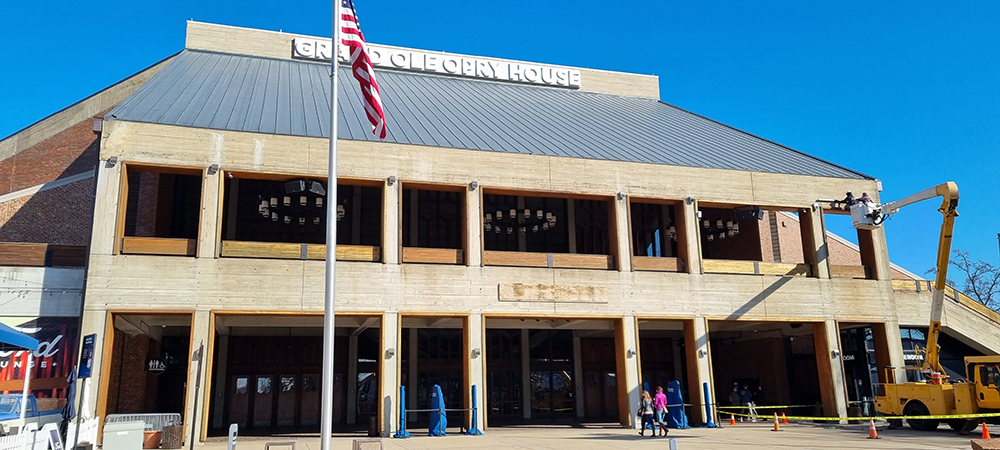 "Before" photo of the "raw concrete" face of the Grand Ole Opry just prior to the new installation.
The impressive outcomes of this partnership are exemplified by remarkable projects such as the full-wrap exterior rebranding of the Grand Ole Opry House.
As John Taylor elaborates, "We've had the privilege of working on multiple projects at the Grand Ole Opry House. When it comes to this particular project, it presented a unique challenge due to the surface's composition. The exterior is constructed with stamped concrete, skillfully designed to replicate the appearance of 'rough-cut cedar' wooden planks. It features a deep woodgrain texture with a substantial half-inch depth variation between the faux planks."
This intricate project involved two key installation processes. Taylor explains, "The first step entails meticulously aligning and joining the panels, each of which spans fifty-eight inches in width. The second crucial process involves applying heat and pressing the vinyl material into the grain and contours using a heat gun/torch and a foam hand roller, progressing at a rate of approximately four inches at a time."
The project timeline spanned approximately seven weeks. In the initial week, Minuteman Press in Nashville undertook meticulous measurements, scaling, and templating of the entire project. This phase provided them with a technical blueprint and construction template to ensure the project's success.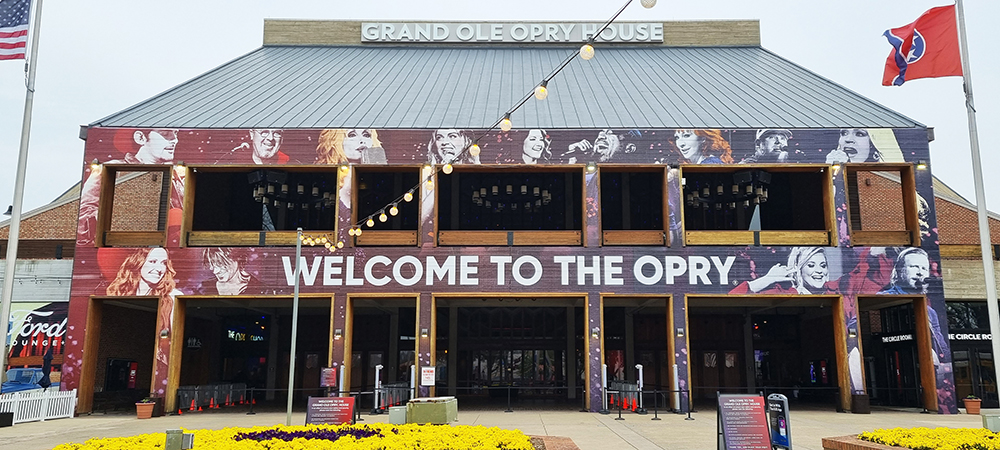 "After" photo of the Grand Ole Opry following the graphics installation by Minuteman Press, Nashville.
"The exterior transformation, like any major branding project, commenced with a meticulous process of measurements and an exhaustive analysis of all elements and surface-related challenges," Taylor explains. "Subsequently, we crafted an Illustrator template to guide their art department, offering valuable insights on best practices and highlighting specific areas that required special attention during the design phase."
The artistic development by Ryman Hospitality spanned two to three weeks, which involved the creation of the artwork, securing approvals from individual artists, and obtaining the necessary internal management authorizations. Taylor notes, "During this period, we also undertook the task of removing the previous banners and aluminum hardware, while concurrently preparing and cleaning the building for the upcoming installation."
Minuteman Press in Nashville took the next step by printing the graphics on 3M IJ-480 vinyl, complemented by 3M 8520 Matte Overlaminate, utilizing their HP 360 Latex printer. The vinyl was then expertly laminated using a GBC roll laminator.
In response to production lead time, Taylor requested a span of seven to ten days to complete the vinyl production. He adds, "The actual process of printing, laminating, and cutting the vinyl took approximately one week."
For the installation phase, Taylor's team employed their own fifty-five-foot boom truck and rented a forty-five-foot boom lift. As Taylor notes, "Ideally, we anticipated being able to complete the installation within one week with a three-person crew. However, the reality was that it extended to two weeks due to the Grand Ole Opry's regular hosting of shows every couple of days, which limited our working hours. We had to ensure that we were packed up and out of the way by 3 pm, and weather conditions also played a role in the extended timeline."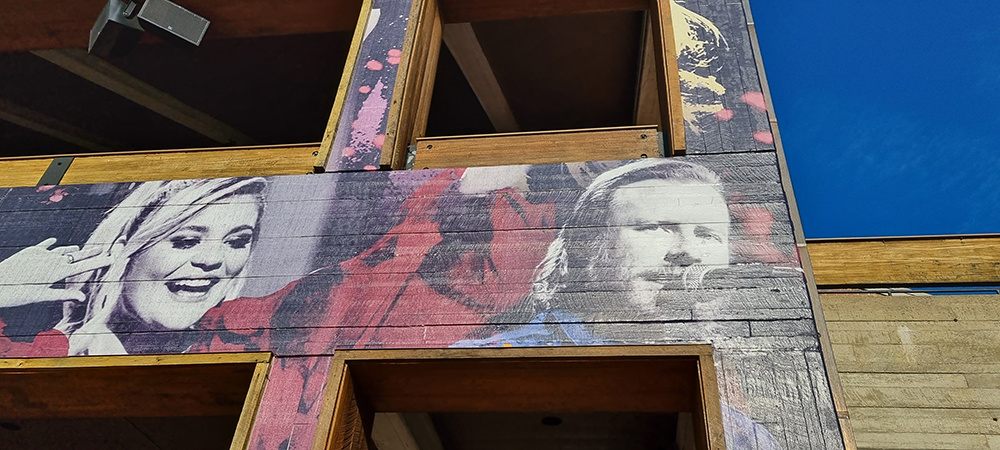 "After" photo of the Grand Ole Opry that takes a closer look at the care and fine detail that went into the project.
Each morning, the team would diligently arrive and secure an area, ensuring that guided tours could continue to operate safely every thirty to sixty minutes. Taylor emphasizes that their installation efforts were closely coordinated with the security team, meticulously avoiding any interference with the evening live shows.
Taylor explains, "The initial team and truck were responsible for hanging and registering the vinyl, while the second lift was equipped with a heat gun, torch, and roller to meticulously work the vinyl into the grain. This stage required the dedication of a single installer with very tired arms."
Reflecting on the project's conclusion, Taylor expresses his immense satisfaction, stating, "I'm extremely pleased with how this Grand Ole Opry House rebranding project turned out. I feel humbled and honored to have had this incredible opportunity. Now, for a more candid perspective," he adds, "it was an exceptionally demanding undertaking, and we rose to the occasion!"
Taylor further shares that his shop has received nothing but positive feedback since the installation was completed. "People have embraced the new face of the Grand Ole Opry House with enthusiasm," he says. "One of my favorite reactions came from a security guard who remarked, 'I haven't seen this many people stop and have their pictures taken in front of the building in years!' He has been on duty for over fifteen years, so hearing that was exceptionally gratifying."
He concludes by emphasizing the fulfillment that comes from having their hard work appreciated, especially on a project of such monumental scale. "It's a tremendous sense of accomplishment," Taylor remarks.